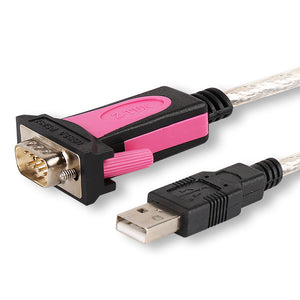 The ZE533 from Z-TEK in Taiwan is a USB to serial port converter which uses the Prolific chipset. It provides PCs, notebook PCs and handheld computing devices using USB an external PnP RS-232 port
Support for Win7/Win8/Win10 and the most common operating systems Linux (2.4 and above) / Mac OS (8.9 and above). Drivers for Windows, Mac OS X and other platforms are on CD.
Features:
Full RS-232 serial interface (including handshake) support
Full compliance with the USB 2.0 Specification
Up to 1 Mbps data transfer rate
support Windows 10 (32/64) /Windows 8 (32/64) / Windows 7 (32/64) / Vista (32/64) / XP (32/64)
Works with cellular phones, PDAs, digital cameras, modems or ISDN terminal adapter.
Package Contains:
1× ZE533
1× CD with driver
1× 1.8 metre long USB cable
1× User Manual