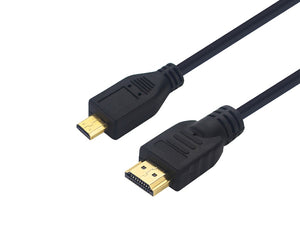 Connects your device with a micro HDMI interface to a device with an HDMI interface
So you can easily connect your compatible cell phone, tablet, digital camera or camcorder to your HDTV, LCD monitor or projector.
Compatible with many micro hdmi port devices (such as  GoPro Hero 7 Black, Hero 6 Black,Sony a5000 handycam, Lenovo IdeaPad Miix 300 10" Tablet, lenovo yoga 2 Pro, Raspberry Pi 4 and so on)
Note:
Please check your devices port clearly before purchase, it does not work with Samsung Galaxy S3 S4 S5 S7 or Kindle tablet without Micro HDMI Port.
no support:
for Samsung Galaxy j 3 (2016
for Samsung galaxy a5 2017
for galaxy s8 
Supports:
Raspberry Pi 4 Model B
For Samsung Galaxy Nexus,Samsung Galaxy Note,Samsung Galaxy S II,Samsung Galaxy Tab ,Samsung Galaxy S III,Samsung Epic 4G Touch
For Meizu MX
For LG Optimus LTE ,LG Verizon Spectrum
For HTC One X ,HTC EVO 3D,HTC Sensation ,HTC Flyer,HTC One S
For SONY Xperia Z
For ZTE Grand Memo,ZTE Grand S LTE,ZTE PF200
For Huawei Ascend P1,Huawei Ascend D Quad
For Lenovo S2
For Pantech Vega LTE
For Xiaomi 2
For Meizu MX series, and other well-known mobile phone products.
For LCD with Sony X9000A, W950A, W900A, W800A, W700A, W650A, W600A, R550A and other models
For Samsung S27B550 and S22B360V; LG's IPS237L / IPS277L several products